Demonstration version
You can download a demonstration version of Patterner right now. This version is fully featured, including online help, demo files, printing and sample output (2d and 3d *.DXF, *.wrl, *.plt). All *.DXF export features have been disabled for this demonstration version.
This demonstration version of Patterner for Windows does export 3d VRML (virtual reality modelling language) files for use in a world wide web browser.
Download Patterner for Windows 4.0.5 Demo Version [586kB].
Download the PDF user guide [920kB].
Full version
The full version of Patterner for Windows is on sale for:
Alternatively, payment can be made via direct bank transfer – Please contact us for further details.
Free add-on tools
Patterner will import most AutoCAD DXF meshes, however it doesn't always succeed. Download DXF2MEM, a utility for converting any DXF rectangular mesh into a patterner MEM file.
The program is a simple droplet style tool, simply drag-and-drop your DXF file onto the DXF2MEM icon and a similarly named MEM file will be created in the same folder.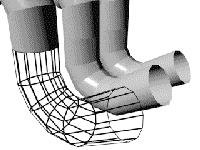 View of surfrev imported from AutoCAD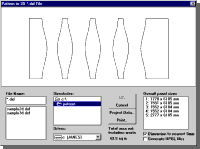 Screen capture of interactive 2d drawing export module.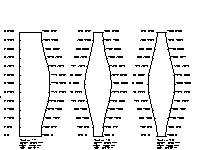 2d pattern drawing output from Patterner